Posted by
Jun 18, 2010
in
Firefighting
|
0 comments
on

You don't need to have a title to be a leader on the fireline.
So writes Pam McDonald in her recent post on the Wildland Fire Leadership Blog. Citing author Mark Sanborn's book You Don't Need a Title to be a Leader (part of the curriculum in WFL's Professional Reading Program), McDonald points out "Each one of us is a leader, whether a leader of one, new leader, leader of people, leader of leaders, or leader of organizations".
One the fireline, it is vitally important that firefighters work as a cohesive unit, responding to and implementing the tasks given then by the Incident Commander. However, there is opportunity for individual leadership for everyone on every fire. Even the most inexperienced firefighter can be a leader by listening closely to instructions and asking questions when he doesn't understand and making the choice stay alert and aware of his conditions.
This book is a great read for everyone involved in wildland fire. Sanborn's book is in stock at Amazon, and used copies can be had for as little as $.96 plus shipping.
Photo credit WAstateDNR- Department of Natural Resources via Creative Commons

Posted by
Jun 10, 2010
in
Firefighting
|
1 comment
on

I'm probably the last person in the fire community to have seen SMOKEJUMPERS. The one-hour special, which follows Missoula rookie smokejumpers, aired last month on Country Music Television (CMT). I knew about it well in advance: Bill Gabbert over at Wildfire Today even did a write-up on it a week ahead of time.
As a former U.S. Forest Service Smokejumper, hearing the news that there would be a reality TV program about Smokejumpers made me cringe. Hollywood's version of firefighting rarely resembles reality, and though I enjoy watching the Red Skies of Montana as much as the next person, it promotes an unrealistic interpretation of what we do. To my surprise, I found the program thoroughly watchable. Despite a couple of places where I disagreed how the job was portrayed, the show was exciting and fun to watch. Here's hoping that the show comes back for a few more episodes!
Photo credit: AugustGregg via Creative Commons

on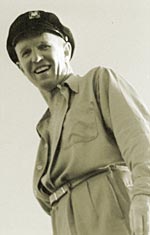 You may have never heard of Robert Switzer before, but his pioneering research and inventions have almost certainly been part of your life. Born in 1914, Switzer co-invented Day-Glo fluorescent paint, which has been incorporated into everything from supermarket packaging to traffic cones to military signaling. The Switzer brothers even developed a fluorescent marker to be mixed in the slurry that air tankers drop on wildfires! After the sale of his company in 1985, Robert and his wife Patricia decided to develop a foundation devoted to encouraging applied environmental problem solving and supporting the continued development of future environmental leaders. Now in its 26th year, the Robert and Patricia Switzer Foundation has provided more than 300 fellows with the tools needed to make substantial positive environmental change.
This spring I applied for the Switzer Fellowship program. I was very excited to be selected as a finalist, and thoroughly enjoyed my interview. I've never been in an interview process quite like that of the Switzer Foundation. My only regret was that I didn't have longer to spend talking to the interviewing panel and the other applicants. And here's the best news: I've been chosen as one of the 2010 Switzer Fellows! I'm delighted to be joining the Switzer network and can't wait to meet some of the other fellows in the network whose research I've read about in the past few months. Exciting news!
Photo credit: Robert and Patricia Switzer Foundation