Posted by
Jan 25, 2011
in
Uncategorized
|
0 comments
on

A new documentary examines the relationship between photography and conservation. Neil Ever Osborne of the International League of Conservation Photographers (iLCP) explores the use of photography and other visual media as a tool to spur conservation through a series of 40 interviews with photographers, from National Geographic editor-at-large Michael Nichols to anthropologist Jane Goodall.
Photo credit KayVee.INC via Creative Commons

Posted by
Jan 18, 2011
in
Uncategorized
|
1 comment
on

Over the last few years, the owners of the Empire State Building have been gradually making it more energy-efficient, reducing energy use by 38% and saving more than $4 million dollars annually. The owners took their greening initiative to the next level when they announced that they will purchase enough wind energy to power the entire building, 55 million kilowatt-hours worth of energy, resulting cost savings along to building tenants in a cleaner, greener New York.
Photo credit Bob Jagendorf via Creative Commons

Posted by
Jan 11, 2011
in
Uncategorized
|
1 comment
on

A day after California Governor Brown released a proposed budget including millions of dollars of cuts for the California Department of Forestry and Fire Protection (CAL FIRE), the fire community is reacting to the proposed changes. Lou Paulson, President of the California Professional Firefighters (CPF), a statewide professional firefighter advocacy organization with 30,000 members, raised concerns in the Mercury Record that:
cutting staff sizes and piling too much responsibility on cash-strapped cities and counties could eventually harm the system known as "mutual aid" in which fire crews respond from all over the state to major wildfires
In the North County Times, San Diego County Supervisor Bill Horn mentioned the $15 million contribution that San Diego County contributes to a contract with CAL FIRE, saying:
I'm concerned that CalFire being cut is probably a cut in public safety, especially in the county of San Diego, that we can't afford to do.
After surveying the proposed budget, newly appointed California Secretary for Natural Resources John Laird said:
This Governor is determined to upright California's budget. Fixing the long-term problem requires sacrifice from each Californian – and certainly the Natural Resources Agency – in the short-term. If California is to achieve a long-term vision for natural resources management that plays a role in restoring the state's economy, the governor's plan is the right path.
If approved, the proposed budget would entail a return to 3 firefighter staffing on engines, reduce the CAL FIRE budget by 1/3, and shift firefighting responsibility from the state agency back to cities and counties.

on

Conservation International reports that wildland fires in Madagascar are on the rise: September, October, and November saw a 8% spike in ignitions compared to the same period the year before.
Rhett A. Butler at WildMadagascar.org attributes the rise in ignitions to an especially dry year as well as continued illegal logging. Madagascar is known for its incredibly rich biodiversity. 70% of the species endemic to the island are found no where else on earth.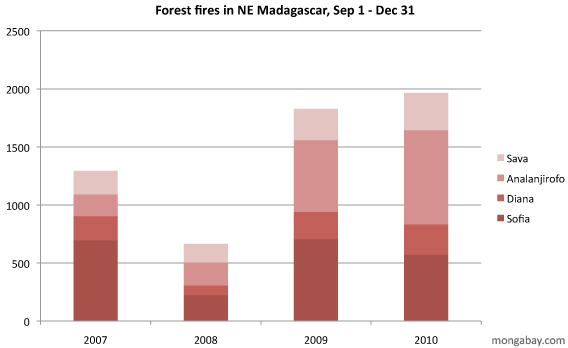 Photo credit Jean-Louis Vandeviere via Creative Commons
Chart credit Mongobay.com